THIS QUICK START GUIDE IS NOT A SUBSTITUTE FOR THE INSTRUCTION MANUAL.
PLEASE REFER TO THE INSTRUCTION MANUAL AND YOUR VEHICLE'S USER'S MANUAL BEFORE USE.
IF YOU HAVE ANY QUESTIONS, CALL CUSTOMER SERVICE AT 1-877-571-2391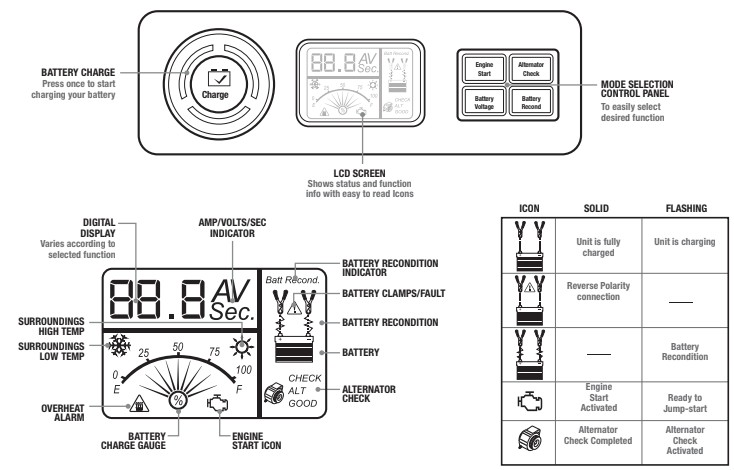 REVERSE POLARITY ALARM
When battery clamps are connected in reverse polarity, an audible alarm (continuous beep) will sound and the LCD screen will display the Reverse Polarity
Indicator icon (please see Instruction Manual for details).
DO NOT activate the unit. If this happens carefully disconnect the clamps and re-connect with the proper polarity. Ensure that the grounded clamp has a firm
and clean connection.
BATTERY CHARGE
Once clamps are correctly connected, press to start charging. NOTE: this unit is a high-frequency smart charger. It will need to sense baseline voltage in your battery in order to engage charging mode. If it does not sense sufficient voltage, it will enter reconditioning mode.
ENGINE START
This unit is equipped with an Engine Start function that delivers concentrated, high amperage charging for a 40-second period to start your vehicle. This is NOT a jump-starting function. After engaging the unit will display a timer. Once the timer has elapsed, you may try to start your vehicle.
ALTERNATOR CHECK
Press to engage the alternator check process, which is designed to determine the functionality of your vehicle's internal electrical system. Please consult Instruction Manual for full details on how to complete this process.
BATTERY RECONDITION
Press to engage a 24-hour battery reconditioning cycle. This cycle will subject your battery to intermittent high-frequency pulses in order to reduce the effects of corrosion and recondition your battery. This is NOT guaranteed to ensure charging. If your battery does not charge after one reconditioning cycle, discontinue charging.
Download the PDF version of the start guide here